Notices
Tri-State Grouting will be cleaning and televising the sewer lines on N. Second St. from Francis Lane to State St. and on Hantwerker Drive from E. Grove St. to the dead end. Additional locations may be included at a later date. This will be ongoing throughout the month of January, 2017 between the hours of 7 am and 5 pm. THERE WILL BE NO INTERRUPTIONS IN WATER SERVICE. We apologize for any inconvenience this may cause. If you have any questions please contact the PUBLIC WORKS OFFICE at 302-846-3696.
On January 6, 2017 the Public Works Department will be working on the water line to the Mason Dixon Concession Stand. There will be water interruption on Spruce Street from S. Pennsylvania Ave. to 1st Street from 9:00 a.m. to 12 Noon. We apologize for any inconvenience this may cause. If you have any questions, please contact the PUBLIC WORKS OFFICE at 302-846-3696.
Vehicles for Veterans- This is a car donation and recycling program that benefits disabled and other veterans programs. This is a good resource site for veterans and individuals looking to donate vehicles for a cause. Go to our LINKS page and get connected.
Maryland Mandate- Fire Sprinkler Installation- A MUST read for builders/contractors/developers. See Public Notices for Full Ordinance and installation provisions.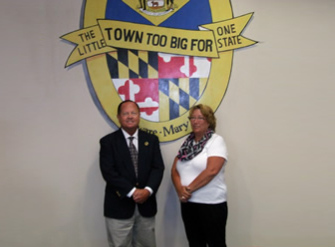 Delmar, DE Mayor Michael Houlihan
and Delmar, Maryland Mayor Karen H. Wells
Our Mission Statement
We, at the Delmar Town Hall, are proud to serve the citizens of our municipality and we continue to try to do our best to make your government responsive, efficient, and progressive. We welcome your thoughts, ideas, comments, and even your complaints, because they all contribute to the success of our combined efforts. By working together, respecting one another, and sharing the pride that is part of our "Town Too Big For One State", we can look forward to a positive future filled with pleasure and prosperity for all. We wish you the very best as you become part of our community and we hope that you will feel a part of our family of Delmar residents.
Recent Snapshots
On December 10, 2011 the Town Officials hosted a ribbon-cutting ceremony to officially dedicate the new home for the Town's Municipal Building. The Town Hall renovation project was a major undertaking to convert the Bank of Delmarva building into a facility with a floor plan that would accommodate our governmental needs. One significant change that occurred as part of the remodeling project was the relocation of the building entrance to the west side of the structure facing Pennsylvania Avenue. The Town received grant funds from Efficiency and Conservation Block Grant which provided many high-tech features to ensure our new facility is energy efficient. This project was funded by local and federal funds.
Delmar's new state-of the-art wastewater treatment facility was unveiled on December 20, 2011 at a ribbon-cutting ceremony that included dignitaries from Delaware, Maryland and the U.S. Environmental Protection Agency.The facility was originally built in the late 1980's; the plant was expanded to treat 30 percent more wastewater than the old treatment facility. A total of 850,000 gallons of wastewater per day which will meet the capacity needs of Delmar now and into the future. The facility was upgraded to include the addition of biological and enhanced nutrient removal systems that effectively reduce pollutants-nitrogen and phosphorus loadings from entering the waterways that drain into the Chesapeake Bay. This project was funded by local, state and federal funds.
General Information
Delmar Town Hall is located on South Pennsylvania Avenue along the railroad track that has become a vital part of our history. Regular business hours are from 8:00 a.m. until 4:30 p.m., Monday through Friday. Our mailing address is 100 S. Pennsylvania Avenue, Delmar, Delaware/Maryland 21875. The phone number is (410) 896-2777 or (302) 846-2664. Our FAX number is (410) 896-9055. Our e-mail address is delmartownhall@verizon.net.
Delmar is two incorporated towns: Delmar, Delaware, governed by a Mayor and four council members is located in Sussex County and Delmar, Maryland, governed by a Mayor and four commissioners, is located in Wicomico County. The Towns share a central administration, police department, public works department, and sewer/water facilities that are jointly owned and operated.
Public meetings are held monthly at Town Hall on the following schedule:
| | |
| --- | --- |
| Mayor and Council of Delmar, DE | First Monday at 7:00 p.m. |
| Mayor and Commissioners of Delmar, MD | Second Monday at 7:00 p.m |
| Delmar Utility Commission | First Monday at 6:30 p.m. |
| Joint Council, Maryland-Delaware | As needed |
| MD Board of Zoning Appeals | Last Tuesday, 7:30 p.m. |
| Parks and Recreation | 1st Tuesday, 8:00 p.m. |
| Planning and Zoning Commission | Thursday before the last Monday at 7:00 p.m. |
| Little League Board | 2nd & 4th Tuesday, 7:30 p.m. |
| DE Board of Adjustments | 3rd Tuesday, 7:30 p.m. |
| Police Commission | Second Monday at 6:30 p.m. |
| Delmar Revitalization | 3rd Wednesday, 7:30 p.m. |
| Public Works Commission | First Monday at 6:00 p.m. |
All of the Town's boards, council, and commissions comply with the open Meetings Act.